If you live in the UK, chances are you're going to need an umbrella! With such variable weather, umbrellas are popular fixtures at almost every sporting and social event, as well as a necessity for people who enjoy being out and about in the great outdoors. Being a common sight in a variety of locations mean that the humble umbrella enjoys a high level of exposure, which is why it's the perfect place for advertising your brand. A growing number of companies are turning to custom umbrellas in order to raise awareness of their products and services.
Not only are umbrellas a great backdrop on which to display your branding, but they're also extremely useful! Whereas many traditional forms of branded promotional materials (think coasters, pens or key rings), are quickly lost, thrown away or otherwise disposed of, an umbrella swiftly becomes a wardrobe staple!
If you want to give customers, prospective customers, staff, partners or the general public an item that showcases your brand at the same time as providing a durable, useful accessory, branded umbrellas are the way to go! We are premium providers of a wide range of custom umbrellas, which can be tailored to meet your exact requirements. Read on to discover the various options available, as well as further detail on how you can customise your umbrella to your exact design specifications.
Golf Umbrella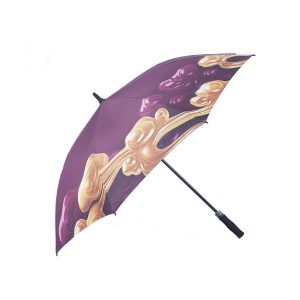 The perfect accessory for the golf course, as the name suggests, golf umbrellas were originally designed to protect players and their equipment from rain and/or sun. Bigger than the average umbrella to provide optimal protection, contemporary golf umbrellas are a common feature on the high street or at spectator sports when two people wish to share the cover an umbrella offers.
Traditional golf umbrellas with logos are made in a vented design with an interior mesh. Modern alternatives include a golf umbrella which is made using a single or double canopy. The double canopy gives additional protection and adds durability with little additional weight. Both designs work well, so the end choice is usually down to individual aesthetic preference.
Because golfing umbrellas are slightly larger than city umbrellas, they need to be made from lightweight materials in order to be comfortable and easy to use: nobody wants to lug a heavy umbrella around! For this reason, we recommend a fibreglass stem rather than a steel or wooden option. Fibreglass is both light and extremely durable. It's water-resistant and capable of meeting the challenges of the British weather without deteriorating.
In order to make use as comfortable as possible, we suggest either the Black EVA foam handle, or the rubber coated hand-grip handle, both of which have been specifically designed to suit the contours of the hand (an ergonomic option). Golfing umbrellas tend to be used for protracted periods of time, so a user-friendly design is ideal. Because of their size and the way in which they are used, a golf umbrella works extremely well as an advertising backdrop. Particularly if you have a brand that is complemented by an outdoor and/or sporting lifestyle, custom golf umbrellas could work really well.
City Umbrella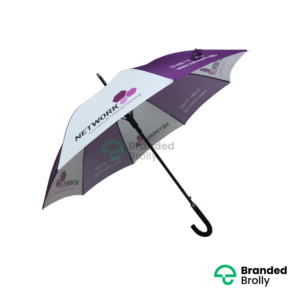 A stylish accessory to any outfit, the city umbrella is the classic British solution to inclement weather! A perennial favourite, the distinctive spike at the apex of the canopy and a classic curved, wooden handle defines this popular option. City umbrellas are commonly used on shorter walks, at spectator events, as an aid to comfortable commuting and, in some instances, as a style statement. Its high visibility and tendency to be used as part of a formal or semi-formal outfit means good looks are almost as important as functionality. Our custom walking umbrellas incorporate all the features of a traditional "brolly" alongside modern materials and technology that result in an item that's a joy to use and offers a high degree of protection.
The canopies in our city umbrellas are made from pongee. Originally made in China from silk, pongee is a closely woven fabric which has a distinctive tradition as a hard-wearing, waterproof material. Contemporary pongee is the preferred choice for high-quality umbrellas. Not only is it waterproof, its tight weave means that it's resistant to rips and tears. It's also a fabric that takes printing well, ensuring that the promotional umbrellas we create end up with clear, long-lasting printed designs. We normally use a double canopy layer for a city umbrella, giving it exceptional weather-beating performance.
Our umbrellas are made using a lightweight fibreglass frame and a wooden shaft and curved handle. Curved handles are a comfortable choice, but if you prefer you may select one of our other handle options. A variety of different background prints are available, as well as the option to print your unique logo and design onto the canopy. Available in several different sizes, if your brand is at home in an urban environment or with an audience that values traditional quality fused with contemporary chic, a city umbrella could be the ideal choice.
Telescopic Umbrellas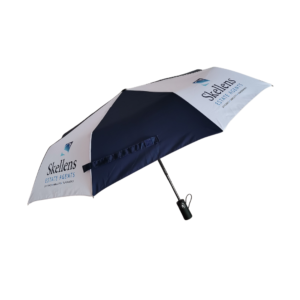 When it comes to telescopic umbrellas, the focus is on function. The purpose of a telescopic umbrella is to fold into a small, easily manageable item when not in use, at the same time as being easy to unfurl when required. It's important that a telescopic umbrella still gives the same high performance as a city or golfing umbrella, which is why the choice of material and design are important considerations.
The mechanism used to unfurl and fold a telescopic umbrella is extremely important. Nobody wants an umbrella that sticks halfway through opening or closing! Our mechanism features a straight-forward "one-touch button" operating mechanism. To deploy the brolly, simply press the button and the mechanism facilitates controlled opening. This method means it takes literally seconds to open the umbrella – ideal for when the rain comes out of nowhere!
Size matters for a folding telescopic umbrella, as it needs to be small enough for easy transportation when not in use. Our umbrellas measure no more than 13″ when folded down, enabling them to fit easily into most bags, backpacks and cases. This makes them the perfect accessory for people who use public transport or who need an umbrella "as and when".
Because a telescopic umbrella is often carried for long periods of time, even when not in use, keeping weight to a minimum without compromising on performance is a priority. Our umbrellas benefit from a fibreglass frame. Well-known for being lightweight at the same time as extremely strong, fibreglass frames are strong enough to resist high winds and driving rain.
Both single- and double-canopied versions of the telescopic umbrella are on offer. Ultimately, a double-layer canopy gives additional protection against wind, rain and sun, but results in an umbrella which weighs slightly more. In comparison, a single-layer canopy provides slightly less protection but does have the advantage of being slightly more lightweight. If you've got an audience who you suspect will be out in the rain for a protracted period of time, we suggest the double-layer canopy option; conversely, for an audience who will want a telescopic umbrella for use as a short-term "emergency" measure in the event of an unexpected shower, a single layer will normally be sufficient.
We are able to provide telescopic umbrellas in almost any colour and design – just tell us what you're looking for and we can usually deliver it.
Inverted umbrellas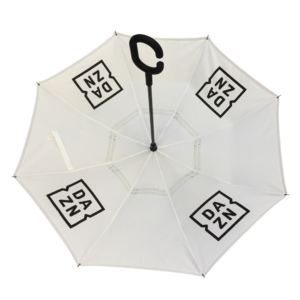 An innovative twist on the conventional umbrella design, inverted umbrellas are a design choice that's growing in popularity due to the functional advantages it provides. Like a traditional umbrella, an inverted umbrella protects from rain, wind and sunlight; the main difference is that rather than having the exterior of the umbrella facing outwards during deployment, the inverted umbrella has the handle on the apex, with the inside of the canopy facing outwards. The canopy drops down as the umbrella is opened, rather than pushing upwards in the way that a conventional umbrella operates.
As well as having an attractive, slightly quirky, contemporary appeal, an inverted umbrella has the following advantages:
– Because the wet outside is away from you during closing, there's less chance of getting wet at the end of your journey.
– It's ideal for getting in and out of vehicles, as can be deployed through a slightly open car door, ensuring protection is in place before the door is fully opened.
– An inverted umbrella can also be partially closed and will balance on the ground without the need to be fully closed.
With canopies made from a material that stops more than 85% of UV light as well as being water and wind-resistant, our telescopic umbrellas have the advantage of a "C-shaped" handle for comfortable use and a durable, lightweight frame.
Because of their novelty value, inverted umbrellas make great promo umbrellas if you want your brand to stand out for all the right reasons. A popular choice with a wide range of audiences, for brands that are all about breaking the mould or are aiming for an audience who loves something a little different, new and exciting, our custom inverted umbrellas with logos can make a powerful brand statement. We are able to customise inverted umbrellas to match your branding and spread your message.
Parasols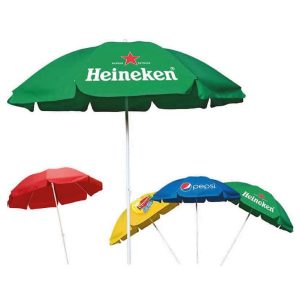 Intended to provide static protection against the sun and rain, parasols are often used with a table and chairs or seats to create a comfortable outdoor environment where people wish to linger! As well as being perfect for static locations, custom parasols can also be transported and set up on camping trips or during conventions, conferences, expos, corporate occasions and similar events. As well as being a good option as a stand-alone branding opportunity, they can also provide brand reinforcement when combined with umbrellas which share the same branding.
Benefiting from a generous 62″ canopy arc, the parasols we provide can be printed in almost any design or colour combination that you would like. The frame is made from sturdy PVC, resulting in a robust item that is able to withstand wind and rain without buckling. 
One of the major advantages of a parasol is its portability. Suitable for use indoors and outdoors, the large size of the canopy ensures your brand enjoys a high degree of visibility. If you've got a stand at a conference or convention, a parasol provides optimal exposure at the same time as providing a space in which to interact with your target audience. Not only that, but branded parasols are ideal for pubs and outdoor seating areas to protect your guests/customers from the elements.
The inks we use in our printing process are formulated to resist wind and UV exposure. This ensures that your parasol carries on looking good, even if it's left up for a few weeks or months to provide on-going protection, for example outside a cafe, hotel or restaurant. Whether you choose to incorporate your logo, a message or simply use your corporate colours to provide an understated brand reinforcement, a parasol not only raises awareness, it also has the potential to give your audience excellent protection from weather extremes. Talk to us about the various options available for customising parasols so that they fit your image.
1. Canopy colours – Pantone match available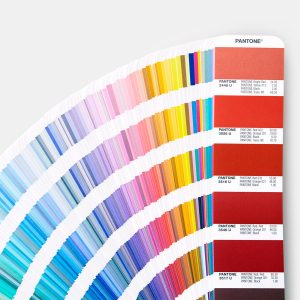 One of the most important considerations when designing personalised umbrellas is making sure that the canopy colours are exactly what's needed. Particularly if you already have a corporate branding that you wish to see on your custom promo umbrellas, making sure that the colour match is exact is important. When you order custom umbrellas from us, you can expect a Pantone match for your logo or corporate colours.
Pantones are standardised colours which are used across the print, art and design industry. This means that colour number 2 (a bright yellow) is the same colour regardless of which company uses it in their work. For example, if your logo is coloured using Pantone shades 3, 9 and 16, we will be able to match them exactly. Even if your design incorporates a variety of colours and is quite complex, we can reproduce it accurately using Pantone matching. This facility ensures your branding is consistent across your promotional material. It also means that if high quality branded umbrellas are the first branded merchandise you're ordering, we can tell you what Pantone colours we've used, enabling you to duplicate the design across other items or virtual promotional material.
Using Pantone colours gives our customers a wide choice of tones and hues, enabling them to select a palette that complements their values and products or services. If you don't have a particular image or colour scheme in mind, we are able to provide suggestions and inspiration, based on our years of experience in designing premium umbrellas for promotional use.
All aspects of your colour scheme can be customised – whether you want a particular background colour or pattern, or have a corporate logo that you wish to have reproduced on the canopy, we can create a design that's exactly what you're looking for, using Pantone matched colours for your convenience and to ensure the very best possible results.
2. Wide range of custom options available for your promotional umbrella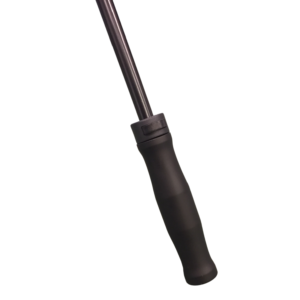 If you're considering opting for a promotional umbrella in order to advertise your brand and raise awareness of your messages, it's important that the item is an exact match for your requirements. Not only does it need to look appropriate, but it also needs to have the functionality that suits your target audience. When you use us for your custom umbrellas, you can expect an exceptional degree of choice in the design of the frame, handle, canopy and overall styling. Detailed below are the various ways in which your umbrella can be crafted to suit your specification:
3. Sizing
The optimal size for your umbrella depends on variables such as:
– Where will it be used? An umbrella for golfing or to keep users dry during spectator events can usually be bigger than an umbrella for use in more crowded urban environments. A larger umbrella is ideal for uses where there is an element of static use – it can be held comfortably for considerable periods of time and its larger size means it's great for sharing! In comparison, umbrellas intended for use over a few hours will frequently be bigger than those intended to provide a lower level of protection over a shorter period.
The umbrellas we supply are available in anything from an impressive 62″ canopy arc (the size of our parasols and larger golfing umbrellas), right the way through to a more modest 38″ canopy arc – the perfect dimension for a telescopic umbrella or one intended for use in environments where space is a consideration.
4. Type of shaft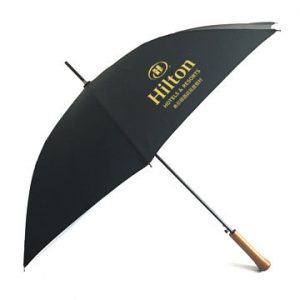 The type of shaft employed can make a considerable difference to the overall design and performance of the umbrella. The shaft has a significant impact on the weight of the umbrella. Although not a traditional material for shafts, fibreglass is a popular option because of its relatively low weight and high strength. Particularly when considering a larger umbrella, a fibreglass shaft helps to keep the weight manageable without compromising on the level of protection enjoyed.
If a classic, traditional look is required, we suggest a wooden shaft. A timber shaft adds an air of distinction and authenticity that's almost irresistible. Nostalgic and stylish, wooden shafts are comfortable to hold and built to last. Wooden shafts look particularly attractive with city umbrellas.
For optimal strength, we recommend a steel construction. Steel shafts offer an exceptional level of strength and are also very weather resistant. Steel shafts are extremely versatile, complementing most colour palettes and umbrella styles extremely well. If you're not sure which shaft is going to work best with your chosen umbrella, we are always happy to discuss your options with you.
5. Handles 
Handles play a key role in the styling of your umbrella. Our selection all benefit from an ergonomic design, meaning they are created so that they are comfortable to hold, are easy to grip and ensure that the weight of the shaft and the canopy is evenly distributed so that there is minimal strain on the hand when the umbrella is in use.
Handle styles vary between the classic curve and soft grips, textured grips (for added security) and simple, smooth grips which add a pleasing minimalist touch to your umbrella design.
6. Canopy variations
Umbrellas with logos are available in a number of different canopy options. The best canopy in part depends on the size of your umbrella: larger umbrellas often benefit from a vented construction, whereas smaller styles can work well with a single canopy. A double canopy gives added durability as well as enhancing performance. In general, our canopies are all made of high-grade pongee material. Quick to dry and resistant to wear and tear, pongee is the fabric of choice for premium umbrellas. It's also extremely long-lasting, ensuring durable performance even after years of use.
7. Colour and canopy printing
We are able to print almost any design onto your chosen umbrella. Using Pantone colours, we can provide an exact match for your corporate logo and/or colours, as well as create background prints, patterns, monochrome and various other colour options. Just tell us what you're looking for and we can create an umbrella design that's right for your requirements. The inks we use are weather-resistant, ensuring years of bright, fresh-looking colour.
When it comes to selecting a suitable custom umbrella to use as a promotional item, there's plenty of choices! This enables our customers to match their umbrella design to their audience. From classic, traditional brollies through to chic, sophisticated urban models, there's something for almost every promotional use. Designed to be practical as well as attractive, these umbrellas are items your audience are going to use and value, as well as a great opportunity to raise awareness of your brand. We offer a complete design and construction service, offering everything from free delivery through to fast lead times and the ability to do small runs of umbrellas if required. As a manufacturer of custom umbrellas that are specifically designed for the corporate market, our Pantone matching ensures accurate reproduction of your branding, logo or other corporate colour scheme requirements.
All our umbrellas are COMPLETELY customisable. Speak with the team today or…
keyboard_arrow_leftPrevious
Nextkeyboard_arrow_right