How are umbrellas made?
With a variety of different models available, you may have found yourself wondering exactly how is an umbrella made. First used more than 4,000 years ago, it's fair to say that umbrella technology has evolved significantly since they were first invented!

In their most basic form, umbrellas are comprised of four main parts; the shaft, the canopy, the ribs and the stretchers. When assembled, it's these four elements which create the umbrella we know today.
Of course, how to make an umbrella will depend on exactly what type you want to produce. Whilst you may think of an umbrella as just a way to keep out of the rain, there are a range of subtle differences and variations.
What are the different types of umbrellas?
A classic, walking or city umbrella typically features a curved handle and a shaft which is made from either wood, fibreglass, aluminium, plastic or steel. Whilst canopy materials can vary, 190T Pongee fabric is usually used as it provides effective protection from rain. We've sold and produced over 2000+ branded city umbrellas and can even print your logo on the handle!
Golf umbrellas are somewhat different, as they tend to be much larger than a class umbrella. Typically 60" in diameter, a golf umbrella is designed to offer additional protection from wet weather conditions. This enables golfers to keep their clubs and golf bags out of the rain, as well as themselves. Whilst microfibre material may be used for the canopy, the shaft of a golf umbrella is usually made with fibreglass, aluminium, plastic or steel, rather than wood. We offer a full range of options that allows you to customise golf umbrellas in every way!
Another variation to consider when you're learning what to do to make an umbrella is the telescopic option. Telescopic umbrellas are a relatively recent innovation and offer increased convenience to users. These types of umbrellas rely on two pieces of material to form the shaft, allowing one part to slip over the other. This enables users to contract and extend the shaft, as needed. An extra set of runners is often added to telescopic umbrellas to increase stability. Making the umbrella extremely portable, you might recognise a telescopic umbrella as handheld or extendable umbrella.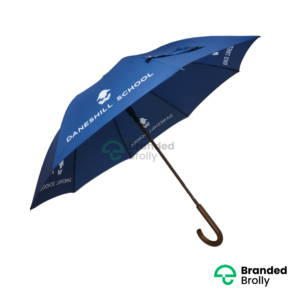 Inverted umbrellas are, perhaps, the latest in rain protection design. Sometimes known as reversible umbrellas, these collapse in the opposite way to a traditional or classic umbrella. Generally featuring a double layer on the inside or underside of the umbrella, many people believe these designs afford better protection from the wind and rain. When you're closing an umbrella, in particular, an inverted umbrella prevents accumulated rain drops from running down the umbrella and on to you, the interior of your vehicle or the floor of your home or office.
Whilst these varying umbrella styles all require slightly different manufacturing processes, they use the same basic principles. Of course, designs can vary significantly across all types of umbrellas. Kids umbrellas typically feature a shorter shaft and may be adorned with bright colours and child-friendly images, for example. Similarly, branded umbrellas are often used by companies to promote their brand and reward loyal customers.
Although you automatically think of wind and rain when you consider how to make an umbrella, a parasol can offer protection from the sun too. Stationary parasols, in particular, are commonly used to afford sun protection to small groups of people. Whilst they're much larger than a portable umbrella, the use the same basic manufacturing processes.
What materials do you need to make an umbrella?
When you're making an umbrella, you can use a variety of different materials. If you're producing a classic or city umbrella, you may want to use a wooden shaft to recreate the traditional look and feel of a stick umbrella, for example.
However, plastic, fibreglass, steel and aluminium tend to be more commonly used in the industry now. When you consider how are umbrellas made in todays world, it's the use of modern, lightweight materials that really characterise modern-day umbrellas.
When you're manufacturing large umbrellas, such as golf umbrellas or parasols, for example, lightweight plastic or aluminium helps to minimise the weight of the umbrella and allows for easy usage. Similarly, if you're making a kids umbrella, you'll want to use a lightweight material for the shaft to ensure the umbrella isn't too heavy to carry around.
To ensure the umbrella can be opened and closed easily, two catch springs are usually placed inside the shaft of the umbrella. The user can simply press the catch and keep it depressed whilst they open or close the umbrella and release it accordingly. This enables the umbrella to remain open when it's in use. A small metal ring or blocking device may also be affixed to the shaft to prevent the catch spring from being forced too far and damaging the unit.
How to create an umbrella canopy?
You'll need appropriate materials to construct the canopy of your umbrella and the ribs, runner and stretcher. Modern-day umbrellas typically use Pongee fabric material for the canopy, although nylon is sometimes used too. These prevent rain droplets from penetrating the umbrella and ensures you stay dry.
Ribs and stretchers are typically made from steel or fibreglass, as they require durability. Ribs are situated immediately underneath the canopy of the umbrella and give it that classic shape when it's open and in use. To ensure they remain properly situated, stretchers are used to extend the ribs and hold them in place when the umbrella is opened. A small jointed hinge is then used to connect the ribs and stretcher to one another. This enables the user to open and close the umbrella seamlessly.
The canopy itself is made from various pieces of material – one piece would not allow for sufficient movement when the umbrella is opened or closed. Each piece is sewn to the ribs to ensure it's secured in place.
Whilst umbrella construction does vary depending on the style of umbrella you're making individual designs can really make your umbrellas stand out from the crowd. Whether you opt for bright colours, bespoke designs or innovative materials, there are plenty of ways to modify and enhance the standard construction process.
To find out more, contact us now at sales@branded-brolly.co.uk
All our umbrellas are COMPLETELY customisable. Speak with the team today or…
keyboard_arrow_leftPrevious
Nextkeyboard_arrow_right